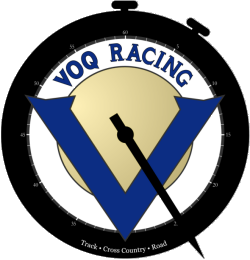 VOQ Racing, established in Apr '12, is a loosely structured group of athletes based in and around the Salem, OR area with a common goal of semi-elite racing. It is the natural evolution of the book, VOQ Training, and the lack of high level racing opportunities between Portland and Eugene. Our goal is to elevate the Salem running scene (across all ages) to a level comparable to its better known in-state neighbors by gathering, augmenting, and inspiring the local talent. View the team Roster & PRs (pdf updated Jul 3 '16, 8:56am), or recent results.
We have established performance guidelines but not strict standards. The emphasis is on competitive racing, either overall or age group. Group training is available but not required. No cost to participate.
Contact Dan Kaplan or hit us up on facebook for more info. We meet every Sunday at Bush Park (bottom of Derby Hill) for a long run at 11am, and smaller groups meet for Tue/Fri 11am/noon and 5pm Tue workouts (same place). Changes will be noted on the facebook page.
Frequently Asked Questions:
Q: Is this a coaching arrangement?
A: Some of the VOQ Racing athletes are coached by Dan Kaplan, but it is not a requirement for participation. View the General Training Framework.
Q: Why the VOQ Training tie-in if the team doesn't specifically follow the book's training?
A: Three reasons: 1) it's a brand that people identify with, and 2) most team efforts are justified by having a promotional element to their name. That's what makes it worth the work. 3) We have several members outside the immediate Salem area, so a Salem-specific name would exclude some people.
Q: How do I know if I'm fast enough to make the team?
A: Visit the Age-Grading calculator to get an idea of how your performance level compares to what we're looking for.
Q: Can high school athletes run with the group?
A: Yes. We have had several such athletes train with us over the summer, achieve huge fitness gains, and transition quite well back into their team's Cross Country training.
Q: Are any of your athletes sponsored?
A: Alison Wood is sponsored by Teneo-x T&F shoes and Handful sports bras. In 2013, she also became a member of the SoCal Track Club but is maintaining her VOQ Racing status. Don Gallogly is sponsored by La Sportiva but isn't officially on the VOQ roster at this time.
VOQ Racing Team Member Benefits:
Access to coaching and/or training partners.
Team atmosphere on race day!
Support Provided By: